Are you looking for a fun and interactive way to learn music? Consider group music lessons at Canton Music Academy! Our group lessons offer families the opportunity to learn together, whether it's parent and child or siblings.
We also offer the option to combine students of similar age and skill level into a semi-private or small group lesson. This provides a personalized learning experience that can be tailored to the unique needs of each group.
Group music lessons are a great way for beginners to get started in music. They are fun and interactive, providing a supportive environment where students can learn and grow together. Group lessons can also be effective for intermediate to advanced students who are looking to improve their skills in playing with others.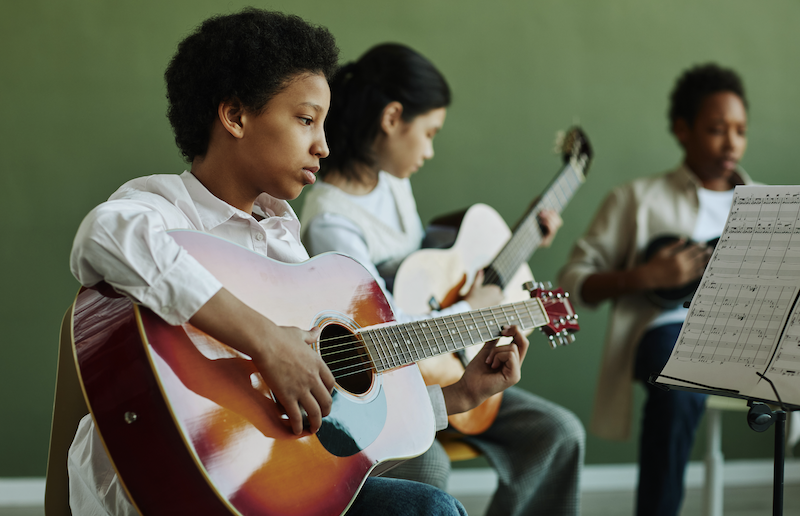 At Canton Music Academy, we believe that music is for everyone, and our group lessons are an inclusive and welcoming environment for all students. We provide high-quality instruction from experienced and knowledgeable instructors, and we use recognized and standardized method books that can be customized to the needs of each group.
We offer group lessons in a variety of instruments, including guitar, piano, drums, voice, bass guitar, violin, viola, cello, upright bass, ukulele, saxophone, clarinet, and trumpet.
Contact us to discuss how we can customize a group class for you. We're here to help you and your family achieve your musical goals and discover the joy of playing music together!
Looking for more information about group music lessons at Canton Music Academy? Give us a call or text at 734-667-4983, or use our convenient inquiry form to get in touch with us. Our friendly and knowledgeable staff are here to answer any questions you may have and help you customize a group class that works for you. Don't miss out on the fun and interactive experience of group music lessons. Contact us today to get started!